The Maryland Dermatologic Society serves as the professional association and supports the activities of all dermatologists, dermatopathologists, dermatology fellows and residents in the State of Maryland to promote leadership and excellence in patient care through education, advocacy, research, and community service.
The Society supports our medical specialty with education, advocacy, clinical conferences, special lectures, grants to residents, and volunteering. Committed to cosponsoring academic meetings with Johns Hopkins and University of Maryland, we hold two academic meetings at these two Maryland medical schools.
In addition, the Society is proud to be the host of the Atlantic Dermatological 100th Annual Conference to be held at the Baltimore Hilton May 12-14, 2023.
ADC is also looking for Exhibitors for the Atlantic Dermatological 100th Annual Conference. Please click below to read more about this opportunity.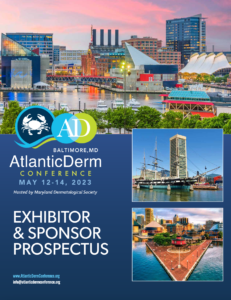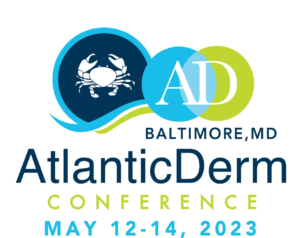 House Call on Annapolis
February 22, 2023
Advocate for Prior Auth & Step Therapy Reform
In 2022, we surveyed you about Prior Auth and Step Therapy problems in your practice.
Here is some of what you told us:
Sixty-four percent (64%) of you said necessary care is always delayed.

Seventy-five percent (75%) said prior authorization sometimes causes patients to abandon their recommended course of treatment.

Seventy-five percent (75%) said insurer criteria is rarely based on evidence-based medicine.
Meet with your district's legislators the morning of February 22, 2023.
Your membership allows us to advocate for dermatologists and our patients in Maryland: to have academic lectures and membership meetings, fund our annual grant for residents, and send physicians to AAD leadership training.  As my term ends, let me review our achievements of this past year and ask you to continue your commitment to Maryland dermatology.
Let's celebrate our big public health win this year in the Maryland legislature. After several years of our advocacy, the legislature passed a prohibition on those under the age of 18 from using indoor tanning devices in the state. This will protect the estimated 47,000 Marylanders 18 and under who are using tanning beds every year.
Your membership will help us schedule interesting and informative meetings:
We plan CME meetings at Johns Hopkins and the University of Maryland annually;
We are planning the 2023 Atlantic Derm Conference at the Baltimore Hilton.
 Your membership helps us advocate in Annapolis:
We lobbied for and the legislature passed a prohibition on indoor tanning by minors in 2019;
We worked with MedChi to pass a regulatory exemption that continues to allow practices to buffer lidocaine more than one hour ahead of patient administration;
We screened over 50 patients at the annual skin cancer screening at the State House and used this opportunity to encourage support of the indoor tanning prohibition bill;
We advocated for increased patient safety concerning Cosmetic Medical Procedure regulations;
We continued lobbying for inclusion of fair physician payment data in our Maryland All-Payer Model.
Your membership helps us fund resident grants and create leaders:
We are awarded our 4th annual MDS grant/scholarship for Johns Hopkins and the University of Maryland dermatology residents with the recipient receiving up to $5000 for research, education, or scholarly projects in the field of dermatology;
We have representation on the AAD Advisory Board enabling members of the Society to submit policy proposals to the AAD;
We send our members to the Academy Leadership Forum.
Join today!  Let's continue to strengthen dermatology in Maryland.
MDS Officers for the 2020-22 term are:
President – Chikoti M. Wheat, MD
Vice President –  Rachel Schleichert, MD
Immediate Past President – Zain U. Syed, MD
Executive Director– Russel J. Kujan
Announcements
&

Society Updates
MDS Awarded the Model State SSTAR Award
State Society Transformation, Advocacy, and Retention
The Maryland Dermatologic Society was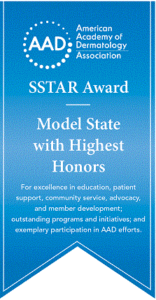 the recipient of the Model State SStar Award
(Model State Award with Highest Honors)given for excellence in education, patient support, community service, advocacy, and member development; outstanding programs and initiatives; and exemplary participation in AAD efforts. It is an honor and privilege to win this award.
PPE guidelines for procedures and examinations around the mouth and nose  (June 25, 2020)
Consistent with the CDC, the AAD recommends dermatologists and their staff wear a mask at all times and patients should wear a cloth facemask or covering if they do not have a surgical mask.  Read the complete recommendations here.
Teledermatology Update from the AAD

The American Academy of Dermatology's Ad Hoc Task Force on COVID-19 is monitoring pandemic developments daily, assessing the impact on practices, and providing guidance most relevant to dermatologists. The most current information is being posted to these pages as we have it. Check back for updates.
In light of the ongoing national health emergency, the government has significantly relaxed regulations around telemedicine so that physicians can continue to provide care to their patients while maintaining the recommended social distance.
Dermatologists who already use teledermatology should be aware that there are new codes available to use.
Dermatologists who are adopting teledermatology to manage the COVID-19 situation can find information on Medicare's new guidance. In short, physicians can use methods that have not previously been allowed, including commonly used video chat apps like FaceTime and Skype, to see their patients without fear of violating HIPAA rules.
Wondering if your private payers are covering telemedicine? The Academy is tracking payer policy updates (clicking here will open a downloadable spreadsheet).